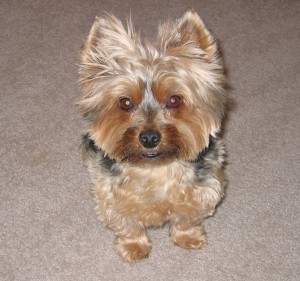 This is Sammie, The Goodwill Ambassador.  Sammie was our family pet for many wonderful years and just the thought of Sammie always brings a smile to my face.  As I am writing this I am looking at his cute face and instantly feel my heart warm and fill with joy.
We called Sammie the Goodwill Ambassador because he brought so much joy to so many lives.  With his short little tail wagging he would happily greet everyone who crossed his path and sometimes go out of his way to cross theirs.  Sammie's soul purpose in life was to touch the heart of everyone he met and share with them a moment of joy.
Moments of joy are like moments of kindness, they touch your heart and stay with you throughout your day.  These moments can be experienced everyday as you become more aware of the kindness that touches your life and the love of a family pet is just one small example.
Many of us have a family pet that brings us these moments of joy everyday, my hope for you is that you start to notice and appreciate these moments more often.  The unconditional love from your family pet is a simple way to experience kindness, a moment of joy which will warm your heart throughout the day.
Not all of us have a "Sammie" in our life, but hopefully we all have something or someone that touches our heart in the same way.  So just for today search out the "Sammie" in your life and allow yourself to savor a moment of joy.